Taco Bell Gluten Free Options
Updated: 10/13/2023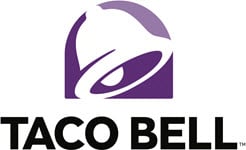 Eating gluten free at Taco Bell may not be the easiest, but rest assured that there are more than a few gluten free options on the menu to choose from. However, there are also some gluten containing ingredients that you'll need to watch out for. That's why we've put together this handy guide to help you navigate the Taco Bell menu while avoiding gluten.
Before we get into it, let's address the elephant in the room. Taco Bell serves a lot of food that contains gluten. That means if you are celiac, or have a serious gluten allergy, Taco Bell might not be the place for you to eat. There is a very real chance of cross contamination from the use of shared equipment and prep space.
Gluten Free Meat & Protein Options
With just about any item on the Taco Bell menu, you can choose to have it made with the protein of your choice. The good news is that almost all of the protein choices are in fact gluten free! When it comes to meat, the steak, grilled chicken and seasoned ground beef are all gluten free, and so are the sausage and bacon used in Taco Bell's breakfast offerings. If you feel like skipping the meat, you can also choose refried beans or black beans, which are also gluten free.
The only gluten containing protein on the Taco Bell menu, isn't actually part of the permanent menu. From time to time, Taco Bell offers products with crispy chicken, like the Crispy Chicken Wings and the Crispy Chicken Sandwich Taco. Taco Bell's crispy chicken is coated in a flour-based batter, so it should be avoided if you're gluten free.
Are Taco Bell's Potatoes Gluten Free?
While potatoes are a naturally gluten free food, many times potato options at fast food restaurants are coated with a gluten-containing batter before being fried. This is true at Taco Bell when it comes to the potato bites (which look like hash browns). Items that contain potato bites, such as the Cheesy Fiesta Potatoes and the Spicy Potato Soft Taco, are NOT gluten free. However, the potato hash browns that Taco Bell offers during breakfast are gluten free as they are not battered.
Gluten in Taco Bell Tortillas and Breads
Taco Bell's entrees come with a variety of tortillas and breads, but only some of them are gluten free. The chalupa and gordita bread both contain gluten, as do the Mexican Pizza crust and the flour tortillas used in burritos, soft tacos and quesadillas. The good news is that the crispy corn tortillas and tostada shells are gluten free. And yes, the Nacho Cheese Doritos Locos Taco shell is gluten free too. The
Are Taco Bell's Sauces Gluten Free?
Taco Bell offers four different flavors of hot sauce in varying degrees of spiciness. Not all of them are gluten free, so please be careful when selecting your hot sauce! The Mild and Hot sauces are gluten free, but the Fire and Diablo Sauces contains gluten. If you're at Taco Bell for breakfast, you'll also want to avoid the Breakfast Salsa, which contains gluten.
In addition to the three hot sauces mentioned above, Taco Bell offers a few other gluten free sauces, including spicy ranch sauce, avocado ranch dressing, creamy chipotle sauce, and red sauce. One sauce to avoid is the nacho cheese sauce, as it contains gluten.
Gluten Free Breakfast at Taco Bell
While Taco Bell does offer a large number of gluten free options, almost nothing on the breakfast menu is gluten free. Every single breakfast entree Taco Bell currently offers is made with a flour tortilla, which contains gluten. The only gluten free menu options at breakfast are the hash browns and coffee. Even the breakfast salsa contains gluten! It might be possible to get a gluten free breakfast burrito by asking for the burrito filling to be put in a bowl with no tortilla, but that sounds like a pretty sad breakfast. If you want a gluten free breakfast, it would be advisable to find a better option than Taco Bell.
What is the Best Gluten Free Option at Taco Bell?
There are quite a few gluten free options at Taco Bell, including the crunchy taco, the Doritios Locos Taco and the beans and rice. However, the best option seems to be the Power Menu Bowl. Available with your choice of steak, chicken or black beans, the Power Menu Bowl contains a variety of gluten-free ingredients such as seasoned rice, sour cream, lettuce, guacamole, avocado ranch sauce, tomatoes and shredded cheese. No matter which protein you choose, the Power Menu Bowl is gluten free without needing any substitutions.
The Power Menu Bowl is also a relatively healthy choice from Taco Bell. Nutritionist Lisa Richards tells us that this bowl "is nutrient dense, offers a variety of foods, and provides a balance of all 3 macronutrients."
If you have a serious gluten allergy, please consult with your local restaurant before ordering. Restaurants often use shared prep and cooking space, which makes cross contamination possible.