Taco Bell Discontinues the Sriracha Quesarito and Waffle Tacos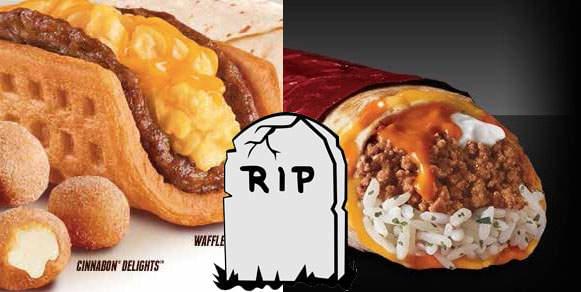 Today we mourn the loss of two Taco Bell menu items, the Sriracha Quesarito and the Waffle Taco. Ok, maybe we don't actually mourn the loss of these calorie-laden examples of pseudo-Mexican cuisine, but if people missed Chicken Fries, someone is bound to miss these items too.
The Sriracha Quesarito was a hot sauce filled, unholy marriage of two Taco Bell staples, the burrito and the quesadilla. Offered for only about a month, the Sriracha Quesarito was an attempt to tap into the hipster-fueled sriracha hot sauce craze that has been sweeping the nation. If you're all tore up over the loss of this menu item, you can go ahead and dry those tears... a Sriracha Quesarito can still be had! Just head to your nearest Taco Bell and order a regular Quesarito and BYOS (that's bring your own sriracha)!
The Waffle Taco had a longer run on the Taco Bell menu, hanging on for about a year before being discontinued. This waffle, folded like a taco and filled with eggs and your choice of cheese, bacon or sausage, was the centerpiece of Taco Bell's entry into breakfast service. Now that the Waffle Taco is no more, you might be wondering how you'll be able to fulfill your desire for a breakfast taco with an inappropriate food for a shell. Never fear, Taco Bell has a solution! Enter the Biscuit Taco, which is, of course, a biscuit folded like a taco and filled with eggs and your choice of meats.
Fare thee well, Sriracha Quesarito and Waffle Taco. You're gone... but not forgotten.
Related Nutrition Facts