Taco Bell Breakfast Nutrition Facts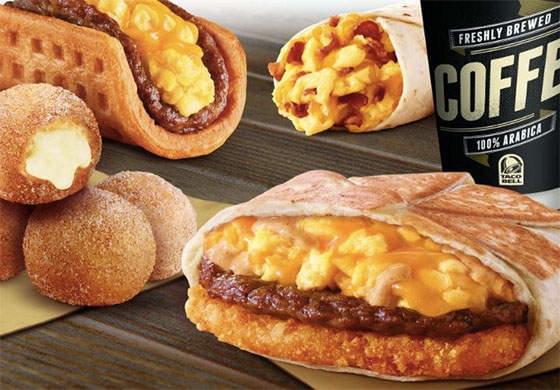 Taco Bell has always been known as a late night "4th meal" destination, but now Taco Bell wants you to think of them for your first meal. Starting this week, Taco Bell is rolling out it's first ever breakfast menu.
On the "first meal" menu, you will find familiar Taco Bell items such as tacos, burritos and the Crunchwrap Supreme, but with a new twist. The burrito and Crunchwrap are stuffed with traditional breakfast foods such as eggs, bacon and sausage. However, the most ridiculous item on the menu is the Waffle Taco; a waffle folded in half and stuffed with eggs and your choice of sausage or bacon.
So is there anything healthy on the Taco Bell breakfast menu?
In a word… no. The biggest offender on the menu is the AM Crunchwrap with sausage. This monsterosity clocks in at a sky high 730 calories and 47 grams of fat. The bacon and egg burrito is only marginally better, with 450 calories and 196 mg of cholesterol.

Along with the new food options, Taco Bell has also added a few new breakfast beverages. Options include coffee, orange juice and a sugary soft drink called Mountain Dew AM.
To see all of the nutrition facts for the Taco Bell breakfast menu, follow the links below:
A.M. Crunchwrap Bacon
A.M. Crunchwrap Sausage
Bacon A.M. Griller
Bacon and Egg Burrito
Cinnabon Delights
Hash Brown
Sausage A.M. Griller
Sausage and Egg Burrito
Side of Eggs
Steak and Egg Burrito
Waffle Taco - Bacon
Waffle Taco - Egg & Cheese
Waffle Taco - Sausage
Premium Roast Coffee 12.5 oz
Orange Juice 10 oz
Mountain Dew A.M. 16 oz
Mountain Dew A.M. 20 oz