Taco Bell $1 Morning Value Menu Nutrition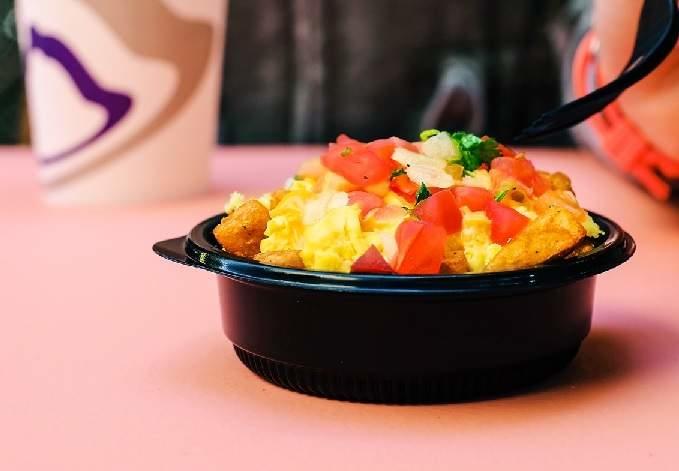 To attract breakfast customers, Taco Bell has tried offering all kinds of unusual foods. They've turned traditional breakfast foods like waffles and biscuits into tacos, covered donuts with Cap'n Crunch cereal and even sold a "morning" soft drink. But if all of those gimmicks didn't get you to try Taco Bell's breakfast menu, maybe their latest change will convince you to.
Taco Bell has just announced their $1 Morning Value Menu. This new menu consists of 10 menu items that all cost – you guessed it - $1. The ten items on the Morning Value Menu include some existing menu items, such as hash browns and the California Breakfast Crunchwrap, as well as two brand new products. Taco Bell claims this is the only dollar menu in all of fast food land that includes bacon.
The first new product is the Mini Skillet Bowl. It's a small serving of scrambled eggs topped with pico de gallo, fried potatoes and nacho cheese sauce. You might be surprised to find out that it only contains 180 calories... that is until you see how small it is. For a lot of people, this item probably won't be ordered alone. Even though it's small, the Mini Skillet Bowl still manages to pack in a sky-high 85 mg of cholesterol.
The other new item is the Sausage Flatbread Quesadilla, which consists of scrambled eggs, sausage crumbles and melted cheese, all wrapped in flatbread. If you thought the 85 mg of cholesterol in the Mini Skillet Bowl was high, you'll want to steer clear of the Sausage Flatbread Quesadilla. Its 90 mg of cholesterol make up 30% of your daily recommended cholesterol intake.
Other items on the Taco Bell Morning Value Menu include the Breakfast Soft Taco, the Grilled Breakfast Burrito, Mountain Dew Orange Citrus Kickstart and Cinnabon Delights.
For the complete nutrition facts on the Taco Bell Morning Value breakfast items, follow the links below: