Panera Double Bread Bowl Goes Nationwide For Limited Time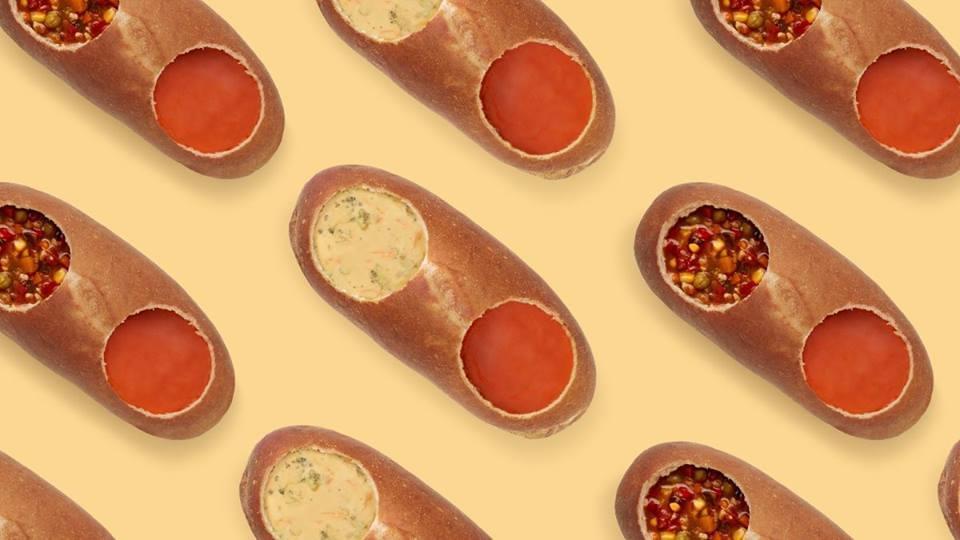 What could be more romantic than sharing some Valentine's Day soup with a loved one out of an edible vessel? Probably just about anything, but don't tell that to Panera. The fast casual restaurant chain is making their Double Bread Bowls available across the entire country for the first time, starting on February 14, 2019, which just so happens to be Valentine's Day.
The Double Bread Bowl consists of a loaf of Panera's Sourdough Bread, scooped out to form two holes which can be filled with your choice of soup or mac & cheese.
While Panera has long sold a single-holed Sourdough Bread Bowl, the Double Bread Bowl is a relatively new creation. It was tested last summer in Philadelphia and was a big enough hit for the St. Louis-based chain to bring to all its restaurants for a limited time.
"Since the test launch, we've seen an overwhelming response on social media from fans asking, 'When will Double Bread Bowls come to my city?' We're excited to answer that demand and spread the bread to guests nationwide," Tom Sadler, Panera's Vice President of Food & Beverage Product Development said in a statement.
You might think that the Valentine's Day launch of the Panera Double Bread Bowl is simply a coincidence, but that appears to not be the case.
"The Double Bread Bowl encourages our guests to take their favorite soups to the next level and share an unforgettable meal with a friend or loved one," Sadler said.
There are 91 different combinations of soup and mac and cheese that can be ordered in your Panera Double Bread Bowl. If you're looking to keep your meal on the lighter side, we would suggest you try Panera's new Ten Vegetable Soup and their Black Bean Soup, which are the lowest calorie options.
From February 14th through February 28th (or for as long as supplies last), couples will be able to share a romantic Double Bread Bowl starting at $9.99... but if you try to make this your Valentine's Day meal, we suspect it might end up as your last meal as a couple!