What Dietitians Order for a Healthy McDonald's Breakfast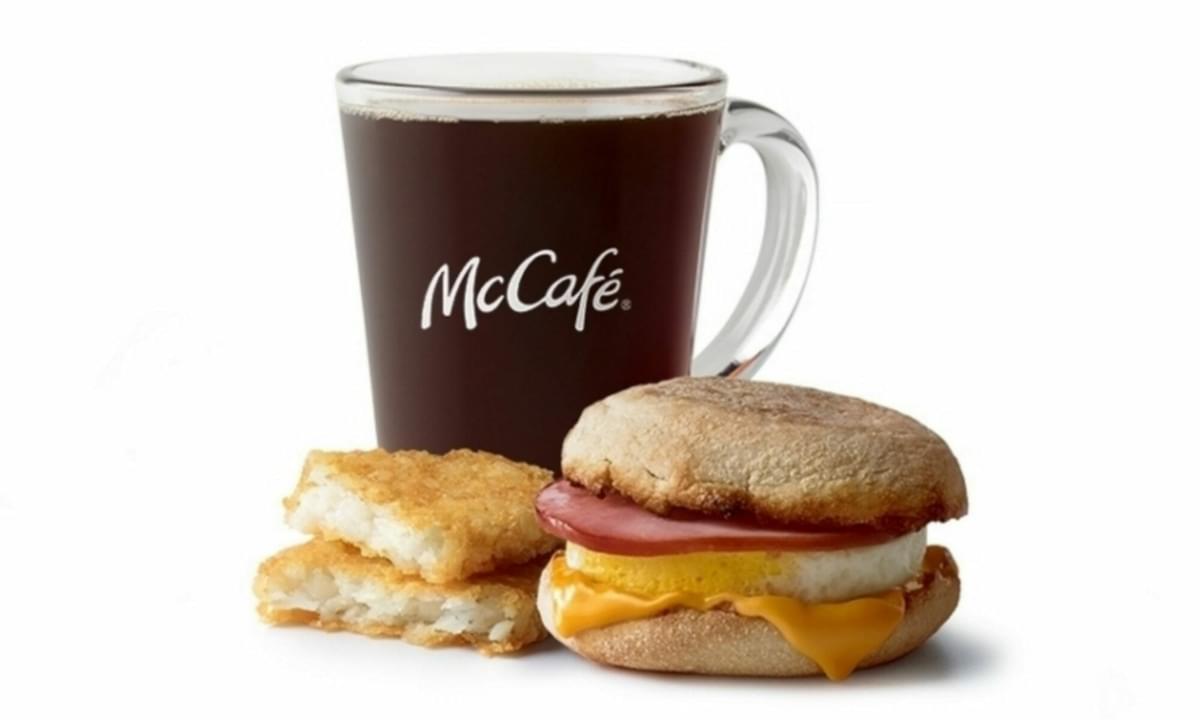 McDonald's has never been known as health food, but the fast food giant is undeniably one of America's favorite places to grab their first meal of the day. Whether it's the low prices or the convenience of McDonald's omnipresent drive throughs, millions of Americans find a reason to make the Golden Arches their breakfast stop each day.
However, McDonald's has never been known for their healthy food. Quite the contrary. In fact, it's one of the few fast food chains that does not even offer a salad. But does that mean you can't find a healthy meal to start your day at McDonald's? To find out, we asked some registered dietitians.
If you were worried that it's impossible to get a healthy breakfast at McDonald's, we have good news. Our dietitians say that it can be done!
"McDonald's may get a bad rap for its fast food menu items, but not all foods sold there should be snubbed" says registered dietitian Cheryl Mussato. "Even if you stop there for breakfast and are on a health kick, here are a couple of surprisingly healthy options to start your day."
Skip the oatmeal
Normally, dietitians would be quick to tell you how healthy oatmeal is. That's because oatmeal is naturally low in calories and carbohydrates, while also being an excellent source of fiber. However, the Fruit & Maple Oatmeal at McDonald's is a different story.
Registered dietitian Trista Best points out that McDonald's oatmeal is loaded with sugar. 33 grams of it to be exact. "To put this in perspective, the McDonald's Apple Pie has only 13 grams of sugar, less than half of what is in the oatmeal" says Best. Ouch.
If eating two McDonald's apple pies for breakfast doesn't seem like a healthy move, then maybe this sugary oatmeal isn't either.
Don't let the hot cakes pancake your energy
When looking for a healthy breakfast, you want to find something balanced. Your meal should provide a good mix of protein, fiber and complex carbohydrates. Sadly, the pancakes at McDonald's are mostly simple carbohydrates (flour) and sugar (from the syrup). Since your body will metabolize those simple carbohydrates into sugar, the Hot Cakes are going to give you a big sugar rush. That will result in a short spike in energy but will leave you feeling tired after. And if you have a long day ahead of you, having your McDonald's breakfast zap all your energy is the last thing you need!
So, what should you order for a healthy McDonald's breakfast? Our dietitians have the answer!
The healthiest option is the Egg McMuffin
Our dietitians were unanimous in their choice of McDonald's breakfast entrée. Every one of them recommended the Egg McMuffin. Registered Dietitian Cheryl Mussato explains:
One of the best healthy breakfast options is their energizing and filling Egg McMuffin. This breakfast sandwich is a perfect jump-start to your day, served warm on a toasted and buttered English muffin, topped with lean Canadian bacon, a slice of American cheese, and one cooked egg. This tasty breakfast provides about 300 calories, 17 grams of protein, and only 3 grams of sugar. These numbers work well for anyone with diabetes or someone watching their weight, needing to cut back on sugar and up their protein intake to keep hunger pangs at bay.
All of that protein should help make your Egg McMuffin a rib-sticking meal, that doesn't leave you feeling hungry before lunch. But what if you want a little something extra to pair with your Egg McMuffin? Read on my friends, because our dietitians have the perfect McDonald's breakfast side for your healthy meal!
Swap the hash browns for apple slices
There's no doubt that people love McDonald's hash browns. Fluffy on the inside and perfectly crispy on the outside, McDonald's hash browns are a wildly popular choice to accompany an Egg McMuffin or any other McDonald's breakfast sandwich. However, they are deep fried in oil, super salty and full of starchy carbohydrates that your body will convert into sugar.
If you're looking for a healthier side to pair with your McDonald's breakfast sandwich, Kelsey Butler, a registered dietitian with a Master's in Nutrition Sciences, recommends choosing McDonald's apple slices. Butler says "Adding a side of fruit is a great way to up the nutritional value of your meal and get some extra vitamins and fiber."
Choosing the apple slices over the hash browns will save you 135 calories. Plus, apples just taste good!
If you pair your Egg McMuffin with a side of apple slices, you'll be looking at a hearty breakfast with 315 calories, 17 grams of protein and 2 grams of fiber. That does not sound too bad for a drive thru breakfast!
That settles it, folks! According to dietitians, an Egg McMuffin with apple slices is the healthy McDonald's breakfast you should order next time you find yourself getting breakfast at the drive-through.
Click here to see the full nutrition facts for an Egg McMuffin with apple slices meal.
About our dietitians
Cheryl Mussato MS, RD, LD
Outpatient Clinical Dietitian at Cotton O'Neil Endocrinology and Diabetes Clinic, Topeka, KS
Clinical Dietitian at Cotton O'Neil Endocrinology and Cardiac Rehab Clinics, Topeka, KS
Author of The Nourished Brain
Trista Best, MPH, RD, LD
Trista Best is a Registered Dietitian at Balance One Supplements, Environmental Health Specialist, and Adjunct Nutrition Professor. She completed her Bachelors of Science in Health Science, Masters of Public Health Nutrition, Bachelors of Science in Food and Environmental Sciences, and Dietitian Registration in 2018. She has been featured on Huffington Post, Organic Authority, Ask Men, Reader's Digest, WeightWatchers, Everyday Health, Byrdie, Business Insider, and Mashed.
Kelsey Butler, M.Sc Nutritional Science
Kelsey Butler is a registered dietitian with a Master's in Nutrition Sciences and who mainly focus on general nutrition, sports nutrition, and behavioral/mindset health.