Subway Flatbread: Is It Healthier?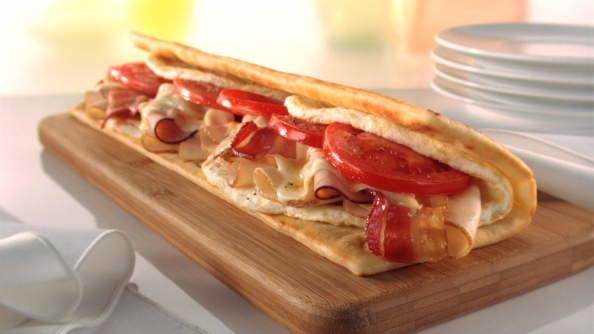 If you're looking for a way to make your meal from Subway a bit healthier, you might be tempted to swap out the traditional bread for Subway's flatbread. It's thinner, so it's less bread... that's gotta mean it's healthier, right? That certainly seems logical, but Chipotle's calorie-filled tortilla taught us that thin doesn't always mean healthy.
To see if flatbread is the smart choice at Subway, let's look at the nutrition facts!
For our comparison, let's look at Subway's 6" flatbread and the 6" Italian white bread. When it comes to calories, the Italian white bread comes out on top with only 200 calories, compared to 220 for the flatbread. That's a 10% difference, which isn't huge, but it is a bit surprising that the flatbread has more calories when it's so much smaller.
In addition to having more calories, the flatbread also has more fat. The flatbread packs 5 grams of fat, which is more than twice what the Italian white bread has. If you're following the Weight Watchers diet program, that extra fat means an extra point for your meal.
Now we know that the flatbread has more of the bad stuff, but what about the good stuff? The flatbread does contain a bit more fiber than the Italian white (2 g vs 1 g), but it has far less calcium (8 g vs 30 g).
So what's the verdict? We'd pass on the flatbread and stick with the Italian white. Not only does it have fewer calories, less fat and more calcium, it's bigger too. That bigger size should help you feel fuller longer, reducing your desire to snack before your next meal.
For full nutrition information, follow the links below: