Which Starbucks Milk is Healthiest?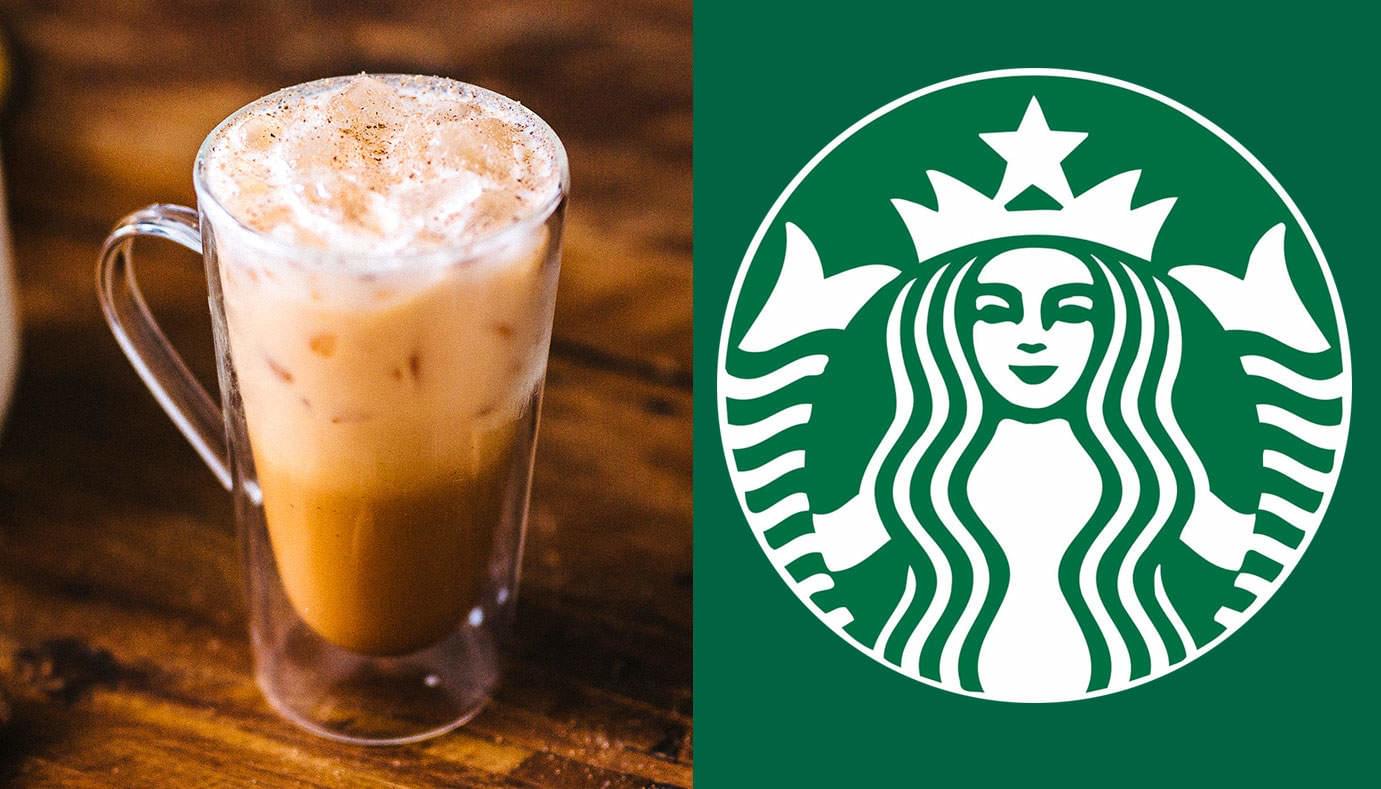 If there's one word to describe the drink menu at Starbucks, it's "huge". There are so many options! And once you select your beverage of choice, you're faced with even more options. What size? Whipped cream? Add a flavor syrup? And if it's an espresso drink, you probably also have to decide what type of milk you'd like your drink made with.
Which milk you choose for your Starbucks drink matters. Pick the wrong milk, and you could nearly double the number of calories in your latte! So which Starbucks milk is the healthiest? First, let's meet our Starbucks milk choices.
Starbucks has 6 different milk options that can be used to make your espresso drink. There are three dairy options (nonfat milk, 2% milk and whole milk), as well as three non-dairy options (soy milk, almond milk and coconut milk).
Starbucks Milks
Let's start by checking out the dairy options, whole milk, 2% milk and nonfat milk. The difference in calories between these options is very large. A tall whole milk latte will set you back 180 calories, while a nonfat milk latte comes in at a much more modest 100 calories. However, all of these milk options will add a lot of sugar (14 grams) to your latte. In fact, a tall Starbucks latte with any of these three milk options will have slightly more sugar than a glazed donut from Dunkin Donuts!
There is one redeeming quality of the dairy milks. Starbucks whole milk, 2% milk and nonfat milk are all great sources of protein. A tall latte with nonfat or 2% milk will score you 10 grams of protein, while the whole milk latte provides 9 grams.
Starbucks Non-Dairy Milks
Can choosing a non-dairy milk will help you avoid some calories and sugar in your latte? Yes, but only if you pick the right non-dairy milk! Starbucks soy milk contains 150 calories and 14 grams of sugar in a tall latte. That's exactly the same amount of calories and sugar you'd have in your latte with 2% milk. Fortunately, Starbucks coconut milk and almond milk both provide a lower calories and sugar option.
Which Starbucks Milk is Healthiest?
Which Starbucks milk should you choose to make your latte the healthiest? Everyone has different nutritional needs, but we think the healthiest option for most would be Starbucks almond milk. The almond milk beats out all of the other milk choices on calories (80), saturated fat (0 g), sugar (4 g) and carbs (7). Additionally, the almond milk provides a small amount of fiber; something that you won't find in the coconut, nonfat, 2% or whole milk.
But don't take our word for it, check out the nutrition facts and ingredients below to find the Starbucks milk option that works best for your diet and nutritional needs.
Sugar in Starbucks Milk
The chart below shows how much sugar you'll find in a Starbucks Tall Caffe Latte without whipped cream or flavor syrup.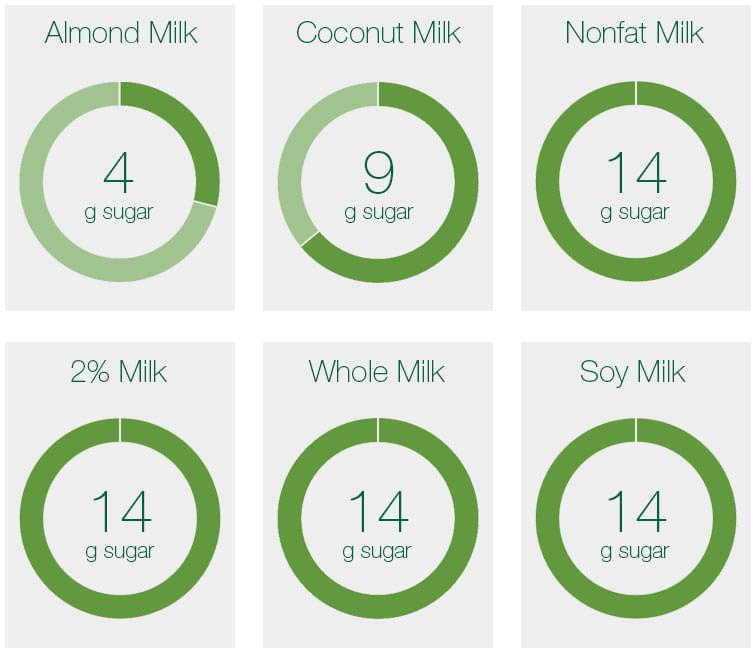 Calories in Starbucks Milk
The chart below shows how many calories there are in a Starbucks Tall Caffe Latte without whipped cream or flavor syrup.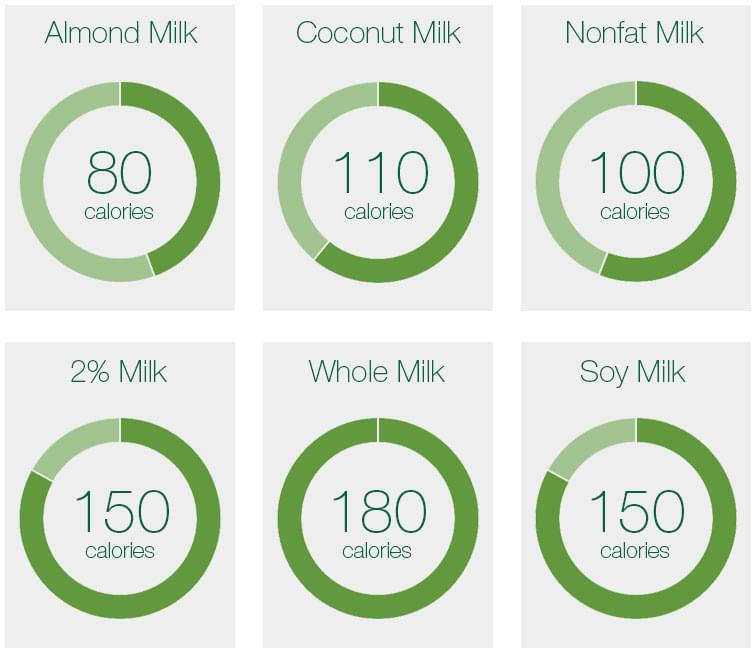 Starbucks Milk Nutrition
All of the nutrition facts listed below are for a tall caffe latte without any whipped cream or flavor syrup.
Almond Milk
Nutrition Facts
| | |
| --- | --- |
| Calories: | 80 |
| Calories from Fat: | 45 |
| Total Fat: | 5g |
| Saturated Fat: | 0g |
| Trans Fat: | 0g |
| Cholesterol: | 0mg |
| Sodium: | 130mg |
| Carbohydrates: | 7g |
| Fiber: | 1g |
| Sugars: | 4g |
| Protein: | 2g |
Ingredients
Filtered Water, Almonds, Sugar, Tricalcium Phosphate, Sunflower Lecithin, Sea Salt, Xanthan Gum, Guar Gum, Vitamin A Palmitate, Vitamin D2 (Ergocalciferol)
Coconut Milk
Nutrition Facts
| | |
| --- | --- |
| Calories: | 110 |
| Calories from Fat: | 60 |
| Total Fat: | 7g |
| Saturated Fat: | 6g |
| Trans Fat: | 0g |
| Cholesterol: | 0mg |
| Sodium: | 120mg |
| Carbohydrates: | 11g |
| Fiber: | 0g |
| Sugars: | 9g |
| Protein: | 1g |
Ingredients
Water, Coconut Cream, Cane Sugar, Tricalcium Phosphate, Coconut Water Concentrate, Natural Flavors, Sea Salt, Carrageenan, Gellan Gum, Corn Dextrin, Xanthan Gum, Guar Gum, Vitamin A Palmitate, Vitamin D2 (Ergocalciferol)
Nonfat Milk
Nutrition Facts
| | |
| --- | --- |
| Calories: | 100 |
| Calories from Fat: | 0 |
| Total Fat: | 0g |
| Saturated Fat: | 0g |
| Trans Fat: | 0g |
| Cholesterol: | 5mg |
| Sodium: | 120mg |
| Carbohydrates: | 15g |
| Fiber: | 0g |
| Sugars: | 14g |
| Protein: | 10g |
Ingredients
Nonfat milk
2% Milk
Nutrition Facts
| | |
| --- | --- |
| Calories: | 150 |
| Calories from Fat: | 50 |
| Total Fat: | 6g |
| Saturated Fat: | 3.5g |
| Trans Fat: | 0g |
| Cholesterol: | 25mg |
| Sodium: | 135mg |
| Carbohydrates: | 15g |
| Fiber: | 0g |
| Sugars: | 14g |
| Protein: | 10g |
Ingredients
2% milk
Whole Milk
Nutrition Facts
| | |
| --- | --- |
| Calories: | 180 |
| Calories from Fat: | 90 |
| Total Fat: | 9g |
| Saturated Fat: | 5g |
| Trans Fat: | 0g |
| Cholesterol: | 30mg |
| Sodium: | 125mg |
| Carbohydrates: | 15g |
| Fiber: | 0g |
| Sugars: | 14g |
| Protein: | 9g |
Ingredients
Whole milk
Soy Milk
Nutrition Facts
| | |
| --- | --- |
| Calories: | 150 |
| Calories from Fat: | 40 |
| Total Fat: | 4.5g |
| Saturated Fat: | 0.5g |
| Trans Fat: | 0g |
| Cholesterol: | 0mg |
| Sodium: | 105mg |
| Carbohydrates: | 18g |
| Fiber: | 1g |
| Sugars: | 14g |
| Protein: | 8g |
Ingredients
Organic Soymilk (Filtered Water, Whole Organic Soybeans), Organic Evaporated Cane Juice, Calcium Carbonate, Natural Vanilla Flavor, Sea Salt, Carrageenan, Sodium Citrate, Baking Soda, Vitamin A Palmitate, Vitamin D2, Riboflavin (B2), Vitamin B12