Dunkin Donuts Debuts Dear Santa and Hershey Kisses Donuts for the Holidays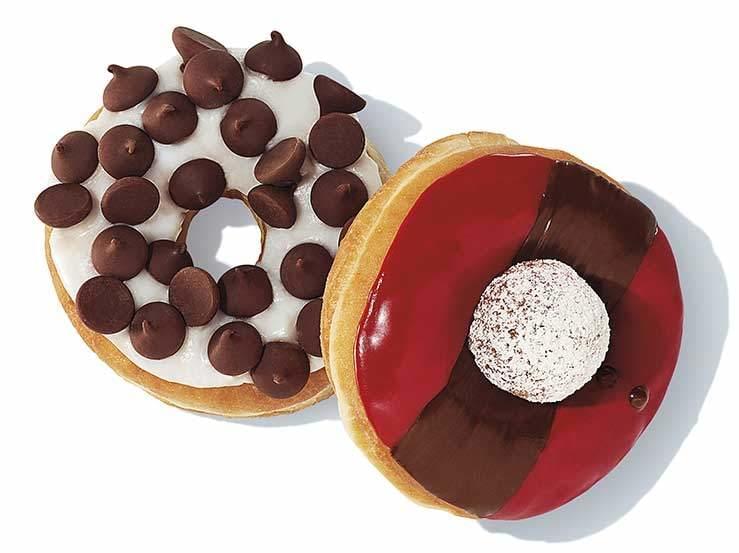 With Thanksgiving in the rear view mirror, Dunkin Donuts is gearing up for the Christmas season with two new holiday-inspired donuts. Beginning today, Dunkin fans will be able to indulge their holiday sweet tooth with the new, limited time offering Dear Santa Donut and Hershey's Kisses Donut.
Dear Santa Donut
Looking to ruin your diet in the most festive way possible? Then Dunkin's new Dear Santa Donut is just what you need! This Christmas themed donut was designed to look like Santa's suit. It features red icing, a strip of black icing and a powdered sugar Munchkins donut hole, all carefully arranged to resemble Santa's suit, belt and buttons. Eat enough of these 350 calories treats, and you might just start looking like Santa by the time Christmas arrives!
Hershey's Kisses Donut
We aren't sure why exactly Dunkin is calling this one "holiday inspired", but the Hershey's Kisses Donut is on the limited time holiday menu. It's a vanilla frosted donut topped with Mini Hershey's Kisses. The Hershey's Kisses Donut clocks in at a whopping 450 calories, making it one of the most caloric donuts on Dunkin Donuts entire menu.
We would argue that their are healthier ways to celebrate the holiday season, but if you're interested in indulging in these sweet treats, you should at least know what is in them! That's where our website comes in! To view the full nutrition facts, allergens and ingredients for the Dear Santa Donut and Hershey's Kisses Donut, follow the links below.