Are they healthy? Burger King Satisfries Nutriton Facts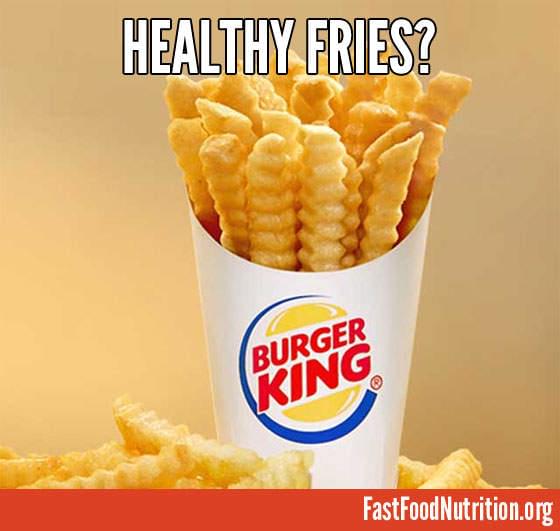 The french fry; golden, crispy, and delicious. Unfortunately, everyone's favorite fast food side is also greasy, fatty and caloric. Burger King is aiming to fix that with their new Satisfries. These crinkle-cut french fries are billed as a healthier alternative to Burger King's traditional fries. But are they really healthy? And how do they taste? Read on to find out!
Compared to Burger King's original fries, Satisfries are indeed healthier. Coated with a special batter that allows less oil to be absorbed into the fries, Satisfries contain 30% fewer calories and 40% less fat than Burger King's traditional fries.
So does that make them healthy? Not really. Fries are notoriously bad for you, so a reduction in calories and fat is surely welcomed, but it's not enough to make Satisfries health food. A medium order of Satisfries will still set you back 340 calories. That's about the right number of calories for an entree, but a whole lot of calories for a side dish that is going to be paired with a burger and a soda.
Even without all of the fat and calories, can Satisfries still deliver that delicious fry taste that fast food patrons love? Well, that depends. Our tasters were split on whether they preferred the Satisfries or Burger King's original fries. Those who found themselves "satisfried" noted that the new crinkle cut fries tasted more like potatoes and less like grease. On the other hand, some of our testers preferred the thicker batter of the original fries. But all agreed that the Satisfries weren't half bad.
Burger King's new Satisfries will save you some calories over traditional fries and you might even like the taste better. But make no mistake about it, switching to Satisfries is not your ticket to skipping the gym. Health food, it is not.
To get the full nutrition facts for Burger King's new Satisfries, follow the links below:
Burger King Satisfries - Value Nutrition Facts
Burger King Satisfries - Small Nutrition Facts
Burger King Satisfries - Medium Nutrition Facts
Burger King Satisfries - Large Nutrition Facts