Healthy? Delicious? You Tell Us!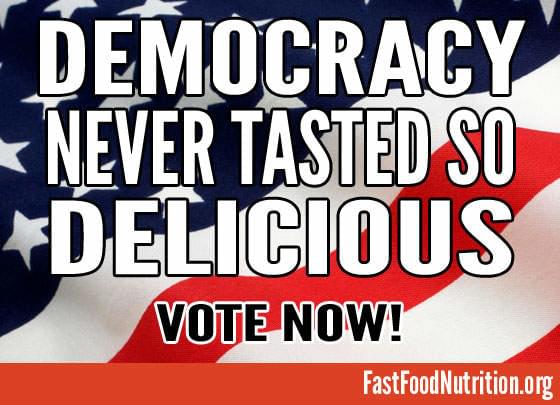 For years, FastFoodNutrition.org has been giving you the nutrition facts for the most popular fast food. Now you can have your say too! We've added voting buttons so that you can tell us (and the world!) what you think is healthy and what is unhealthy. Our new Health-O-Meter shows how healthy our visitors think each menu item is.
But health is just one part of the equation. What good is healthy food if it tastes like cardboard? That's why we have also created a Taste-O-Meter, so you can tell us what's delicious and what's disgusting.
Vote early, vote often and help your fellow Americans find foods that are healthy AND delicious!
To vote, click on a fast food restaurant from the list on the left, select a menu item from that restaurant and use the voting buttons on the right side of the page to make your voice heard.