Taco Bell Beefy Crunch Burrito Nutrition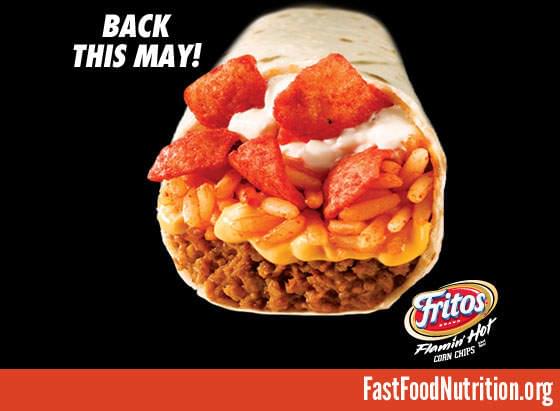 Next month, Taco Bell will be bringing an old favorite out of retirement. The Beefy Crunch Burrito will make it's triumphant return to the menu in May, but only for a limited time.
The Beefy Crunch Burrito is yet another menu item that seeks to remedy the age old problem of liking chips AND Mexican food, but not having the time to eat both separately. Like the Doritos Locos Tacos, the Beefy Crunch Burrito is infused with a Frito Lay product; this time it's Flamin' Hot Fritos.
So what else is in this burrito? And what about the nutrition facts? Is it healthy?
Other than the Flamin' Hot Fritos, the Beefy Crunch Burrito consists of ground beef, nacho cheese sauce, seasoned rice and sour cream; all wrapped up in a flour tortilla. With cheap, fatty ground beef, nacho cheese and sour cream, it's no surprise that this little burrito packs a big nutritional punch... in a bad way.
The Beefy Crunch Burrito has 500 calories and 1,060 mg of sodium. That's 44% of your daily value of sodium! These number might not seem THAT terrible for a meal... but it isn't really a full meal, is it? You'll probably order one of these suckers with a drink and maybe a side dish or a taco. Doing that will push your meal up near the 1,000 calorie range.
So the Beefy Crunch Burrito isn't really healthy... but is it healthier than some of Taco Bell's other offerings? Actually, it is. Choosing the Beefy Crunch Burrito over Taco Bell's Beefy 5-Layer Burrito will save you 50 calories, 2 g of saturated fat and 210 mg of sodium.
Check out the full nutrition facts for the Beefy Crunch Burrito and tge Beefy 5-Layer Burrito to compare for yourself:
Beefy Crunch Burrito Nutrition Facts
Beefy 5-Layer Burrito Nutrition Facts