McDonald's Mighty Wings Nutrition Facts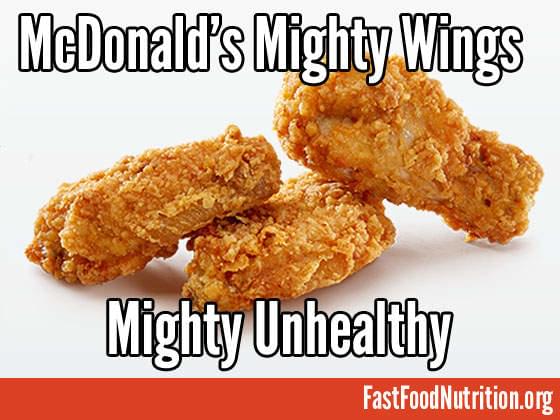 Recently, McDonald's has been revamping their menu to include more options for health-minded consumers, such as the Egg White Delight and Premium McWraps. However, their latest addition to the menu shows that McDonald's is not straying from their traditional formula of offering cheap, greasy fast food anytime soon.
McDonald's is currently embarking on a nationwide roll out of their new Mighty Wings. These bone-in chicken wings are seasoned with cayenne and chili pepper, and will be available in 3, 5 or 10 piece packs, starting at $2.99. Wing connoisseurs will have their choice of creamy ranch, honey mustard or tangy barbecue dipping sauces.
So what's the nutritional cost of indulging in a meal of Mighty Wings? As you may have guessed, this is not health food. But what you might surprise you is that these Mighty Wings are so bad, that they make Chicken McNuggets look like health food.
Looking at the medium size Chicken McNuggets (6 piece) and the medium size Mighty Wings (5 piece), there's a huge nutritional difference. The Mighty Wings contain 71% more calories and fat than you'll find in the Chicken McNuggets. If you think that's bad, the Mighty Wings also have 169% more sodium and 262% more cholesterol!
Feeling extra hungry? Step on up to the larger 10 piece Mighty Wings and you'll be looking at 100% of your recommended daily value of fat, cholesterol, sodium and protein all from one meal. And if you're worried that your arteries are a little too un-clogged, add an order of large fries and you'll be at a whopping 1460 calories. Delicious.
If you're going to eat Mighty Wings, you might want to put your cardiologist on speed dial, because this stuff is seriously unhealthy. Do yourself a favor and stick with the McNuggets. Or better yet, get a Caesar Salad with Grilled Chicken.
For full nutrition facts for McDonald's new Mighty Wings, follow the links below:
McDonald's Mighty Wings 3 Piece Nutrition Facts
McDonald's Mighty Wings 5 Piece Nutrition Facts
McDonald's Mighty Wings 10 Piece Nutrition Facts