Burger King Extra Long Buttery Cheeseburger Nutrition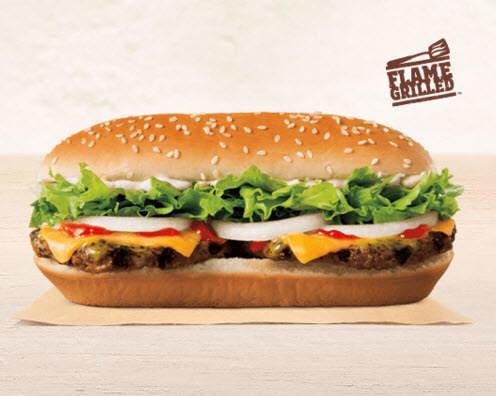 After eating a burger, do you feel like your hands aren't greasy enough? Does it feel like blood is flowing through your arteries a little too easily? Well, Burger King has a solution for you: butter! That's right, Burger King is now putting butter on burgers. BK's new limited time offering - the Extra Long Buttery Cheeseburger - is here to make sure that your hands are too greasy to hold on to anything and that your arteries are clogged enough to give your heart a real workout!
This new buckle-busting burger is the latest variation on the original Extra Long Cheeseburger. The Extra Long Buttery Cheeseburger features all the same components you'll find in the original (side by side burger patties, American cheese, lettuce, onion, ketchup and mayo, all served on an oversized, oblong bun), plus one new ingredient: garlic butter sauce.
You might be surprised Burger King felt the need to take a large double cheeseburger and make it even less healthy by adding butter. However, they aren't the first restaurant to do this. Jack in the Box has been slathering burgers with butter for a while, with their line of Buttery Jack burgers.
At this point you might be wondering how much worse for you the Extra Long Buttery Cheeseburger is than the original. The difference is significant. Adding that garlic butter sauce to the burger adds a massive 130 calories to your meal. That's nearly the same number of calories you'll find in Burger King's Vanilla Ice Cream Cone!
Compared to the original, the Extra Long Buttery Cheeseburger also has 14 more grams of fat and 2 more grams of saturated fat. The original Extra Long Cheeseburger was by no means healthy, but this Buttery version just makes it even worse. If you must order an extra long cheeseburger, we highly recommend passing on the butter sauce.
For full nutrition facts, visit the links below: