Get the Facts on Chipotle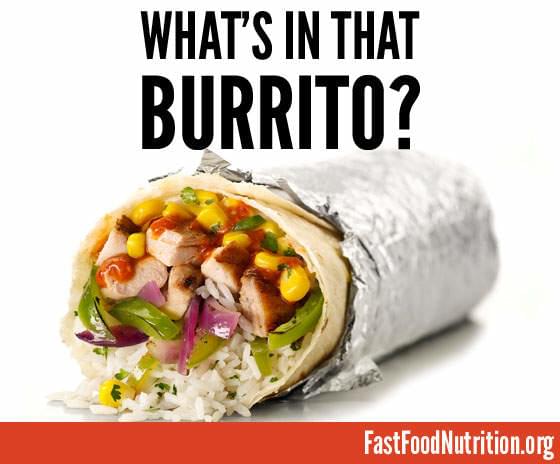 Every week we get emails asking us to list the nutrition facts for Chipotle. Well burrito fans, your wait is over. We now have the nutrition facts for Chipotle's full menu of burritos, burrito bowls, salads and tacos!
Are you trying to keep things healthy while eating at Chipotle? The good news is, it's completely up to you! At Chipotle, you get to specify every ingredient that goes into your meal, so you can make it as healthy as you want.
Here are a few tips for eating healthy at Chipotle:
Choose a burrito bowl instead of a burrito. By skipping the tortilla, you'll save yourself 290 calories, 9 grams of fat, 44 grams of carbs and 670 mg of sodium.
Get brown rice instead of white. The brown rice has less calories and sodium than the white rice. It also has a bit of fiber, which you won't find in the white rice.
Avoid high calorie toppings such as guacamole and sour cream. Adding both of these toppings to your burrito will add a whopping 270 calories to your meal!
Share with a friend. Seriously! Chiptole's burritos are huge. Split one in half to share, or save half for tomorrow's lunch.
What are you waiting for? Check out our page on Chipotle nutrition facts and start eating healthier burritos today!