Starbucks Unicorn Frappuccino Calories and Weight Watchers Points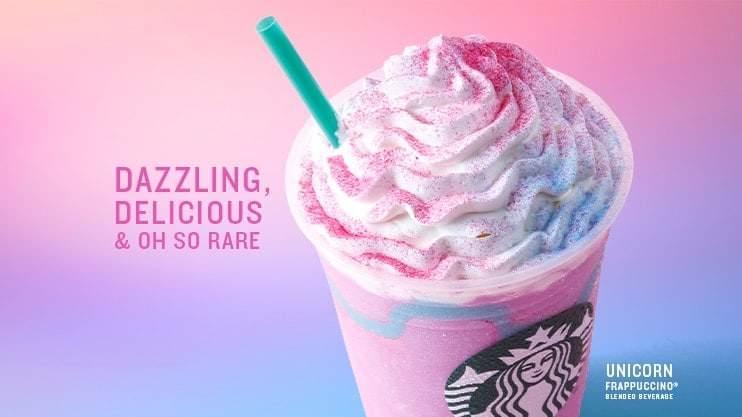 Tired of your boring, plain Frappuccino? Starbucks thinks you are. That's why for the next five days, the coffee giant will be selling a color and flavor-changing Frappuccino Creme drink, inspired by unicorns. This limited time only beverage is neon-colored, layered with different flavors and goes great with all of your favorite Lisa Frank products.
Here's what Starbucks has to say about the Unicorn Frappuccino: "Like its mythical namesake, the Unicorn Frappuccino blended creme comes with a bit of magic, starting as a purple beverage with swirls of blue and a first taste that is sweet and fruity, but give it a stir and its color changes to pink, and the flavor evolves to tangy and tart. The more swirl, the more the beverage's color and flavors transform."
The Starbucks Unicorn Frappuccino gets its crazy colors and flavors from a pink powder that is blended into the Frappuccino, mango syrup and drizzle of sour blue syrup. While the creature that inspired this drink is mythical, the calories are definitely real. So what's does a Unicorn Frappuccino look like from a calories perspective? Like anything at Starbucks, that all depends on how you order.
Like all Frappuccinos, the Unicorn Frappuccino comes in a variety of sizes with your choice of milk and optional whipped cream topping. These choices provide a HUGE range of nutritional options. For example, if you order a Tall (12 oz) Unicorn Frauppuccino with nonfat milk and skip the whipped cream, you'll be set back a modest 160 calories and 9 Weight Watchers SmartPoints. However those feeling more indulgent could end up consuming a whopping 500 calories and 26 SmartPoints in the Venti Whole Milk Unicorn Frappuccino with whipped cream!
Before you order your Unicorn Frappuccino, make sure you're making a choice that works with your diet. To calculate the nutrition facts for your Unicorn Frappuccino, try our Starbucks Drink Calculator. Or you can browse all of the nutrition facts and Weight Watchers points for the Unicorn Frappuccino.