McDonald's Oreo Shamrock McFlurry Nutrition Facts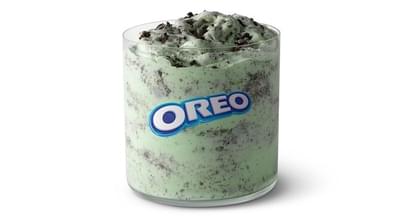 Available for a limited time, the Oreo Shamrock McFlurry is made with vanilla soft serve ice cream, Oreo cookie pieces and mint-flavored shamrock McFlurry syrup.
McDonald's Oreo Shamrock McFlurrys contain between 370-560 calories, depending on your choice of sizes. Choose from the sizes below to see the full nutrition facts, ingredients and allergen information.
Updated: 2/15/2021
Currently Available Sizes
SHARE
Link copied to clipboard!