The Nutrition of Burger King's New Turkey Burger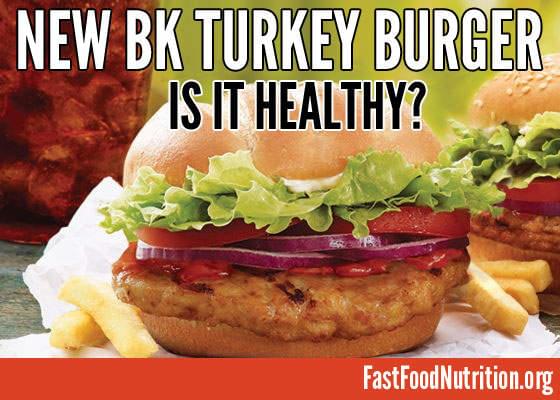 Burger King has just announced a few changes to their menu that they hope will appeal to health conscious diners.
The first menu change is that the MorningStar Veggie Burger is now topped with red onions. This change has minimal impact on the nutritional value of the Veggie Burger, but may have a significant impact on your post-meal breath.
More interesting is the brand spankin new Turkey Burger that BK is launching. Char-grilled and topped with lettuce tomato, red onions and mayo, the Turkey Burger is meant to be healthy alternative to a burger. But is the Turkey Burger really healthy? How does it compare to a burger or a chicken sandwich?
For our comparison, we looked at the Burger King menu to find the burger and chicken sandwich that seem the most similar to the Turkey Burger in terms of size and toppings. Those two items ended up being the Whopper and the Tendergrill Chicken Sandwich. Let's begin the comparison and find out where the Turkey Burger ranks!
Calories
The Turkey Burger weighs in at 530 calories. That's a bit more than the Tendergrill Chicken Sandwich's 470 calories, but less than the Whopper's 670.
Fat
With 26 grams of fat, the Turkey Burger again slots in right in between the Tendergrill Chicken Sandwich (18 g fat) and the Whopper (40 g fat).
Cholesterol
When it comes to cholesterol, the surprising winner here is the Whopper with only 75 mg of cholesterol. However, the Tendergrill Chicken Sandwich and the Turkey Burger aren't far behind, with their respective 85 mg and 90 mg of cholesterol.
Sodium
Again, the Whopper reigns supreme with 980 mg of sodium. Following are the Tendergrill Chicken Sandwich (1100 mg sodium) and the Turkey Burger (1210 mg sodium).
So is the Turkey Burger healthy? Kind of. We'd choose it over the Whopper. However, the clear winner is the Tendergrill Chicken Sandwich. With fewer calories and less fat, cholesterol and sodium than the Turkey Burger, it's what we'd spend our money on.
Decide for yourself: View the full Nutrition Facts for the Turkey Burger.