McDonald's Premium McWrap Nutrition vs Subway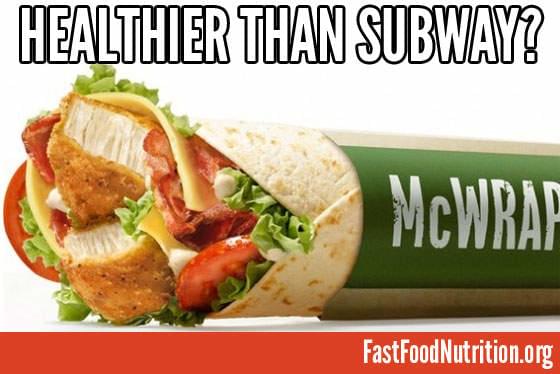 Recently, McDonald's created headlines when a leaked internal memo outlined the company's plan to attract Millennials to the golden arches. According to the McMemo, Millennials (aged 18-32) prefer healthy foods with high quality, fresh ingredients. That's right, some people actually like food that doesn't suck... and McDonald's is just now realizing it.
So what is McDonald's doing with this revelation? Well, they've created a new product to win the hearts of Millennials: the new Premium McWrap. The memo proudly calls the McWrap a "Subway buster" and claims that a full 22% of McWrap customers would have gone to Subway had the McWrap not been on McDonald's menu.
Is the McWrap actually healthy? Does its calorie and fat content really compare favorably with Subway? There's only one way to know for sure... to the nutrition facts we go!
McDonald's is offering three different versions of the McWrap: Chicken & Bacon, Chicken & Ranch and Chicken Sweet Chili. Each one of these versions is available with your choice of crispy chicken or grilled chicken. For our comparison, let's ignore the versions with crispy chicken. We're all about healthy eating, and the grilled chicken is clearly the healthier choice.
So how does the nutrition of the McWrap stack up against comparable Subway sandwiches? Shockingly, pretty well. Looking at the McDonald's Chicken Sweet Chili McWrap and a Subway 6" Sweet Onion Chicken Teriyaki sandwich, the nutrition facts are fairly similar. The McWrap has a few less calories, but a few more grams of fat and more sodium.
The nutrition facts for the McDonald's Chicken & Bacon McWrap are also really similar to the Subway Oven Roasted Chicken sandwich with bacon. The McWrap has about 5% more calories and a bit more fat than the Subway sandwich. The Subway sandwich is the healthier option here, but not by much.
So there you have it. McDonald's actually has created a menu option that can compete with Subway when it comes to nutrition. But is the Premium McWrap enough to woo Millennials? Only time will tell.
Take a look at the full nutrition facts for McDonald's Premium McWraps at the links below:
Premium McWrap Chicken & Bacon (Grilled) Nutrition Facts
Premium McWrap Chicken & Ranch (Grilled) Nutrition Facts
Premium McWrap Chicken Sweet Chili (Grilled) Nutrition Facts
Premium McWrap Chicken & Bacon (Crispy) Nutrition Facts
Premium McWrap Chicken & Ranch (Crispy) Nutrition Facts
Premium McWrap Chicken Sweet Chili (Crispy) Nutrition Facts