The Complete Wingstop Sauce Flavor Guide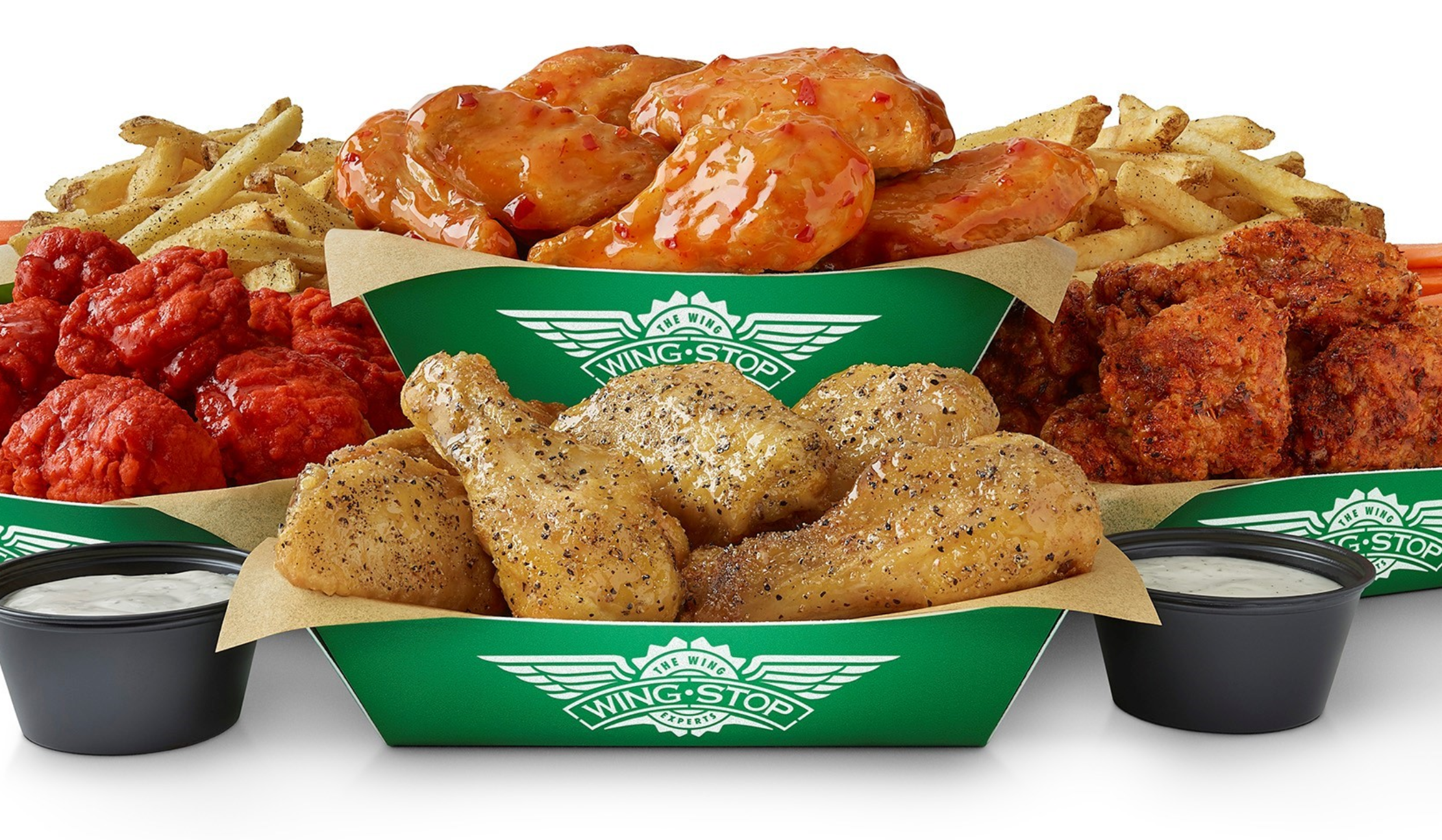 Whether you're ordering chicken wings, thighs, tenders or a chicken sandwich at Wingstop, you'll have to make an absolutely critical decision; which of the more than a dozen Wingstop sauce flavors should you choose? With so many options, it can be tough to decide! Never fear friends, our Wingstop Sauce Flavor Guide is here to help you make the choice that's best for you.
Wingstop Sauces Ranked by Spice Level
Wingstop offers a wide array of spice levels in their sauces and dry rubs. Some are super spicy, like the Atomic Sauce, while others are sweet and savory like the Garlic Parmesan Rub. And of course, there are all different of levels of spice to be found in between. To help you find a Wingstop Flavor that has the right level of spice for you, we've ranked all of the flavors by spice level.
Atomic Sauce - This is the spiciest sauce on the menu. Buyer beware!
Cajun Sauce/Rub - When you order an item with the Cajun flavor, it is tossed in Wingstop's original Hot Sauce and then sprinkled with a blend of Cajun seasoning. It's full of heat, but also the flavors of New Orleans.
Mango Habanero Sauce - Habanero peppers bring intense heat, partially offset by the sweetness of the Mango. Don't be fooled though. The Mango Habanero Sauce is still a scorcher.
Original Hot Sauce - The classics are a classic for a reason! Wingstop's Original Hot Sauce bring some solid spice, but not in an overwhelming way.
Louisiana Rub - This flavor features the same Cajun seasonings found in the Cajun sauce/rub, but doesn't include the Wingstop Hot Sauce. That takes the spice down a notch, but you're still sure to taste plenty of heat.
Korean BBQ Sauce - Made with Sriracha, garlic, ginger and red pepper flake, this sauce is a solid medium heat.
Hickory Smoked BBQ Sauce - Sweet, smoky and savory with a bit of a kick. Only the most spice-adverse will find these wings too hot.
Mild Sauce - This flavor is a much less spicy of the Original Hot Sauce. The heat is still there, but as the name implies, it's quite mild.
Lemon Pepper Rub - Made with cracked black pepper and tangy lemon juice, this flavor is only slightly spicy.
Garlic Parmesan Rub - The garlic provides a ton of flavor, and the parmesan brings some umami. This flavor is for those looking for flavor without the heat.
Carolina BBQ Sauce - Sweet, tangy and sour, this vinegar based BBQ sauce is almost completely absent of spice.
Hawaiian Sauce - This is the flavor for people who aren't looking for any spice. It's full of citrus flavor and is quite sweet and savory.
What is the Best Tasting Wingstop Flavor?
If you can only pick one flavor for your wings, why wouldn't you want it to be the best tasting sauce? Of course, taste is subjective, but we can tell you which flavors most Wingstop frequenters seem to favor. For years we've been surveying our website visitors on which flavors they prefer. The top rated flavor is none other than the Original Hot Sauce, followed closely by the Lemon Pepper Rub. The Wingstop flavor that Below is a list of the flavors that have been most positively reviewed.
The 5 Best Wingstop Flavors
Original Hot Sauce - Taste Score: 100
Lemon Pepper Rub - Taste Score: 98
Mango Habanero - Taste Score: 92
Garlic Parmesan - Taste Score: 90
Hickory Smoked BBQ - Taste Score: 88
What is the Healthiest Wingstop Flavor?
Chicken wings might not exactly be health food. However, if you're going to Wingstop, you might as well try to pick a healthy flavor. In general, most Wingstop flavors contain a good amount of calories and sodium. That means the absolute healthiest option would be to get your wings, tenders or sandwich plain, with no flavor. If you find that boring, there are a few Wingstop flavor options that don't add too many calories.
Wingstop Flavors with the Fewest Calories
Original Hot - adds 2 calories per wing
Cajun Rub - adds 2 calories per wing
Atomic Sauce - adds 4 calories per wing
Hawaiian Sauce - adds 15 calories per wing
Low Sodium Wingstop Flavors
Sodium content is something you should also consider when looking for a healthy flavor option at Wingstop. The saltiest Wingstop Flavor is the Original Hot Sauce. A single wing tossed in Original Hot Sauce contains 458 mg of sodium. That means an order of 6 Original Hot Wings contains more than 100% of the recommended daily sodium intake. The Wingstop flavor with least amount of sodium is the Atomic Hot Sauce, which contains less than a fourth of the sodium found in the Original Hot Sauce. If you can't handle the heat of the Atomic Sauce, try the Hawaiian Sauce. A single Hawiian Wing contains 126 mg of sodium. Another lower sodium option is the Garlic Parmesan Rub. A single Garlic Parmesan Wing contains 140 mg of sodium, far less than what you'll find in an Original Hot Wing.
What is the Best Wingstop Chicken Sandwich Flavor
It may not come as a surprise that same Wingstop flavors that our visitors prefer on their wings are also the flavors they prefer on their chicken sandwiches. The most popular flavor for the Wingstop Chicken Sandwich is the Original Hot Sandwich followed by the Lemon Pepper Sandwich.
Are any Wingstop flavors gluten free?
If you keep a gluten free diet, Wingstop offers plenty of flavors that do not contain gluten. In fact, among the dozen Wingstop flavors, only the Hawiian Sauce contains wheat or gluten. That's great news for anyone who prefers to avoid gluten, but the story isn't as rosy for those with a serious gluten allergy. That's because all of Wingstop's fried foods are cooked in the same oil, making cross contamination an inevitability. Learn more about gluten free options at Wingstop.
Looking for more information on the Wingstop menu? Check out our full list of Wingstop nutrition to see calories, Weight Watchers points and more for every item on the Wingstop menu.