What's in a McDonald's Shamrock Shake?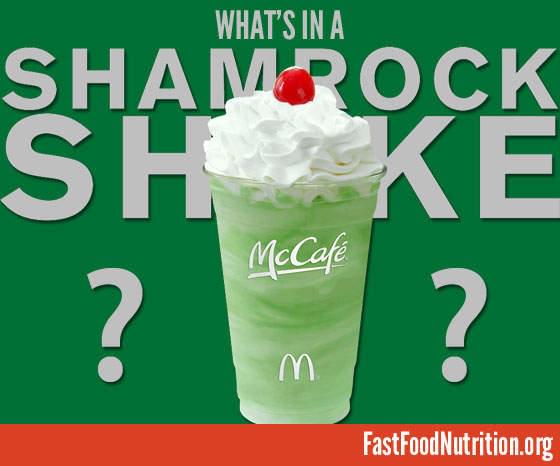 St. Patrick's Day is almost here and it's time to bring out that one green shirt that's way too ugly to wear any other day of the year. While you're doing that, McDonald's is also digging out one of their old green favorites, the Shamrock Shake. This peppermint-flavored, bright green milkshake makes an annual appearance for St Patty's day, much to the delight of its many fans. But what's in a Shamrock Shake? And how is it so green that it looks like it might just glow in the dark? Let's take a look!
First let's examine the sugar content. The Shamrock Shake contains natural sugar. And corn syrup. And high fructose corn syrup. And corn syrup solids. That's right, three types of corn syrup. All of this adds up to a super sweet treat... and between 63 and 113 grams of sugar, depending on your choice of size. To put that in perspective, a Dunkin Donuts Glazed Donut only has 12 grams of sugar.
All that sugar contributes a significant amount of calories to the Shamrock Shake. In total, a Medium Shamrock Shake has 560 calories; slightly more than the number of calories in a Big Mac!
So the Shamrock Shake is full of calories and sugar, but is it at least made out of natural, wholesome ingredients? In a word, no. The vanilla ice cream used contains artificial vanilla flavor as well as preservatives... you know, just in case you want to save your Shamrock Shake for next St Patty's day. And what about that radioactive green color? Also artificial, thanks to yellow 5 and blue 1 food coloring. Mmmm... my mouth is watering.
For more info, check out our full nutrition facts for the Shamrock Shake.