Arby's Mighty Mini Sliders Nutrition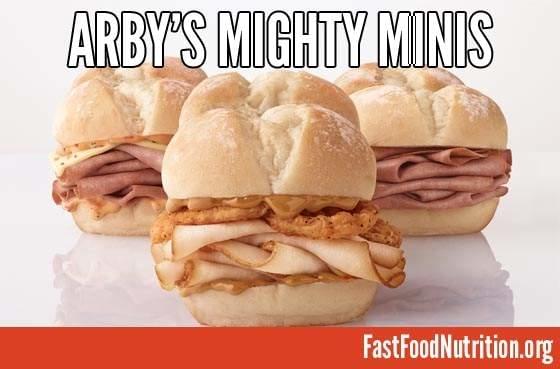 Arby's has just released a new limited time offer, the Mighty Minis. These sliders are sold as a pair and are available with either roast beef or roast turkey. Beyond that, you also get your choice of original (just meat on a bun), spicy (with pepper jack cheese and a spicy sauce) or crispy onion (topped with a deep fried onion).
So why order a pair of Mighty Mini sliders instead of a regular roast beef or turkey sandwich? Is it a good snack because it's less food? Are the Mighty Minis healthier? Let's look at the nutrition facts to find out!
Obviously a Mighty Mini slider is smaller than Arby's Roast Beef Classic Sandwich. But the Mighty Minis come as a set of two, and Arby's says that one serving is two minis. With that in mind, let's compare the nutrition facts for two Arby's Original Roast Beef Mighty Minis with one Roast Beef Classic Sandwich.
First, let's look at size. The serving weights of our two options is nearly identical, with the Roast Beef Classic weighing in at 154 grams and the two Mighty Minis weighing 156 grams. It would seem that the Original Roast Beef Mighty Minis are pretty much the equivalent of a Roast Beef Classic Sandwich cut in half... but that's not quite true.
Taking a deeper look into the nutrition facts, we can see that the Roast Beef Classic bests the two minis nearly across the board, with fewer calories and less fat, sodium, cholesterol and carbs. The one place where the minis beat the Roast Beef Classic is trans fat, but it's not by much (the minis have .5 g trans fat while the Roast Beef Classic has 1 g).
The nutrition facts only get worse if you start looking at the spicy and crispy onion versions of the Mighty Minis. The Crispy Onion Roast Beef Mighty Minis have a whopping 45% more calories than the original version, due to the fried onion ring and the creamy sauce. Both the spicy and crispy onion Mighty Minis have more calories, more fat, more trans fat and more cholesterol than the original version.
To see the nutrition facts for the Arby's Mighty Minis for yourself, check out the links below:

Original Roast Beef Might Minis Nutrition Facts
Original Roast Turkey Might Minis Nutrition Facts
Crispy Onion Roast Beef Might Minis Nutrition Facts
Crispy Onion Roast Turkey Might Minis Nutrition Facts
Spicy Roast Beef Might Minis Nutrition Facts
Spicy Roast Turkey Might Minis Nutrition Facts