Burger King's Angriest Whopper Will Have You Seeing Red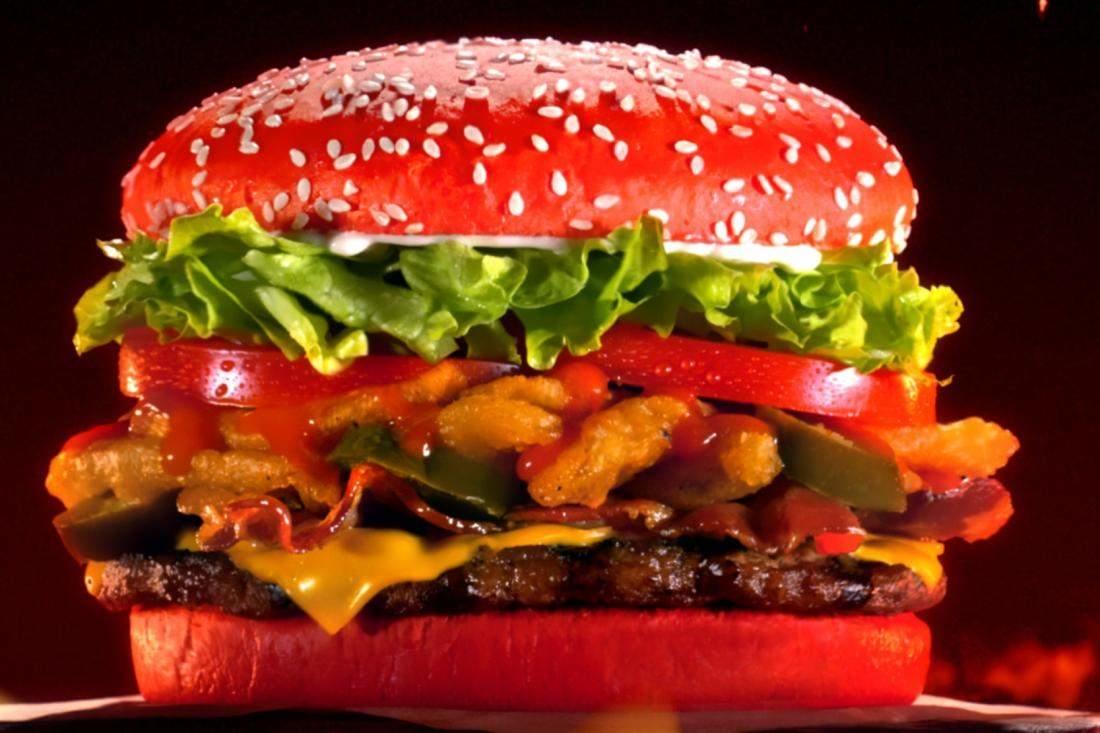 In 2012, Burger King turned the spice-o-meter all the way up to 10 when they introduced the Angry Whopper. This tongue torching burger was topped with bacon, habanero cheese, jalapeno slices, spicy fried onion petals and a spicy "angry" sauce. Apparently some people were actually able to stomach this hot, beefy meal without getting indigestion. Today Burger King is attempting to fix that by upping the ante with the new Angriest Whopper.
This limited time offer from Burger King is pretty much the same as the original Angry Whopper, with one impossible to miss difference: a bright red bun. We're not talking about a slightly reddish bun, this thing is fire engine red. That color serves as a warning for what is baked right into the bun: hot sauce. That makes the Angriest Whopper Burger King's spiciest creation ever.
If you're a spiceaholic who can't wait to try this this hotter-than-hades burger, you might be wondering about the nutrition facts. Surely a burger with bacon and fried onions isn't going to be healthy, but just how many miles are you going to have to run to work off an Angriest Whopper?
A lot. The Angriest Whopper clocks in at a portly 830 calories. Getting it with fries and a Coke? You're looking at 1430 calories. At a 6 mile per hour pace, the average person will burn about 90 calories a mile. That means you might have to run 15 miles to burn off that meal. Ain't nobody got time for that!
But health is more than just calories. Click here to see the full nutrition facts for the Burger King Angriest Whopper.