The Best of Fast Food: The 2015 Healthy Taste Award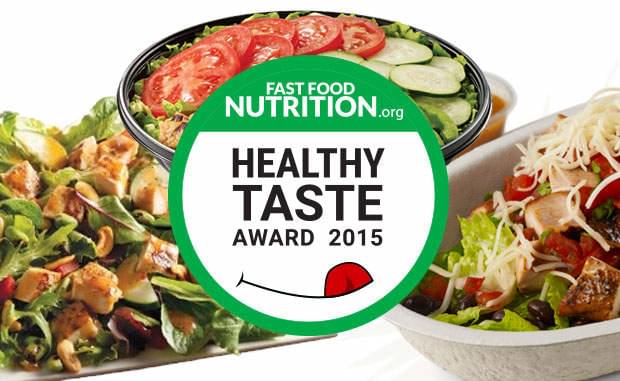 Fast food has a reputation for being unhealthy, and in a world of triple bacon cheeseburgers, it's easy to see why. However, as Americans seek to improve their diets, a growing number of healthy options are popping up on fast food menus around the country. Today we celebrate the best of the best, and award them the 2015 FastFoodNutrition.org Healthy Taste Award.
To pick our winners, we asked you, our website visitors, to tell us what you think are the healthiest and tastiest menu options from fast food restaurants. After counting the more than 150,000 votes cast, three clear winners emerged. These menu items represent the best that fast food has to offer. With these healthy and delicious options readily available with drive-thru convenience, you no longer have an excuse to not eat healthy.
And the winners are...
Wendy's Asian Cashew Chicken Salad
Crisp mixed greens with fire-roasted edamame, spicy roasted cashews and warm grilled chicken, topped with a Light Spicy Asian Chili Vinaigrette. 380 calories (including toppings and dressing).
See Wendy's Asian Cashew Chicken Salad nutrition facts
Chipotle Steak Burrito Bowl
With 300 fewer calories than a burrito, the Steak Burrito Bowl features grilled steak marinated in smoky chipotle adobo sauce and your choice of beans, rice and other toppings. 190 calories (before optional toppings).
See Chipotle Steak Burrito Bowl nutrition facts
Subway Oven Roasted Chicken Salad
A chopped salad with tender oven roasted chicken breast and your choice of vegetables. 140 calories (before optional toppings and dressing).
See Subway Oven Roasted Chicken Salad nutrition facts