Cool Ranch Doritos Locos Taco Nutrition Facts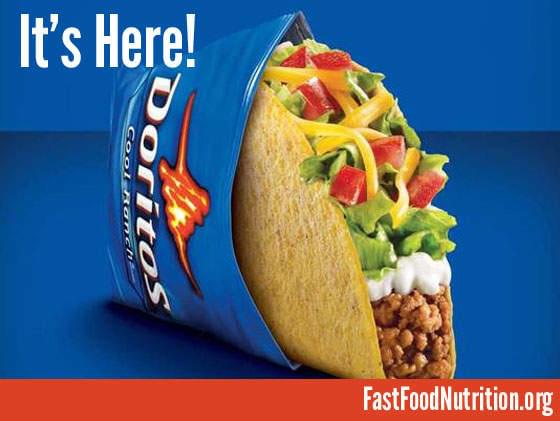 Your wait has ended, fake-Mexican food fans! The Cool Ranch Doritos Locos Taco from Taco Bell is finally here! That's right, you can now walk into any Taco Bell and order this mutant combination of two of America's most popular Mexican-ish foods... a Taco Bell taco and Doritos Cool Ranch "tortilla" chips.
So what's in these tacos? Is it good for you? How does it compare to a regular taco?
On the surface, the Cool Ranch Doritos Locos Taco doesn't look too bad. It only has 160 calories and 13 grams of carbs. That's a pretty light meal... if that's the only thing you order. But going to Taco Bell and ordering one item is like going to a kegger and having one beer... no one does, and if you try to, people will think there's something wrong with you.
If you pair it up with a chicken Chalupa, you're looking at 500 calories and a whopping 28 grams of fat!
So if you're a regular Taco Bell crunchy taco consumer, what will be the nutritional impact of swapping out your regular taco for a Cool Ranch Doritos Loco Taco? Will you pay a price for that ranchy goodness? Not really. They have virtually the same amount of calories fat and carbohydrates, but the Doritos Taco is a bit saltier.
Check out the complete nutrition facts for the Cool Ranch Doritos Locos Taco.