Jimmy Johns Beefy Black & Bleu Nutrition Facts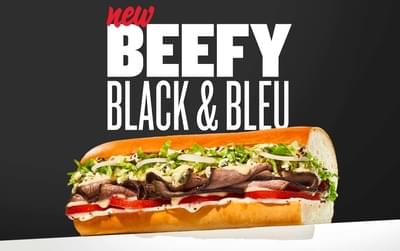 Available for a limited time, the JJ's Beefy Black & Bleu features roast beef, horseradish aioli, black pepper, onions, tomatoes, lettuce, bleu chees crumbles and a bleu cheese dressing.
Jimmy Johns Beefy Black & Bleus contain between 380-1300 calories, depending on your choice of options. Choose from the options below to see the full nutrition facts, ingredients and allergen information.
Updated: 10/22/2021
Currently Available Options
SHARE
Link copied to clipboard!